The kitchen is considered to be the busiest place within a household as all the cooking and its necessary preparations are done in a kitchen. Due to this factor, there should be a considerable amount of lighting in your kitchen when compared to the other rooms in your house.
However, finding the type of lighting which would be apt for your kitchen can be quite daunting because you may end up picking the sort of lights that do not provide sufficient illumination, especially if your kitchen is pretty large.
We got you covered with some lighting tips that would be useful for brightening up your kitchen just as you desire. Read ahead to find out.
Add lights that match the ambiance
This is the first step in deciding the type of lighting that you need for your kitchen. You need to ensure that the lighting you choose complements your kitchen's surrounding and provide enough brightness at the same time.
Therefore, examine your kitchen closely and make a note of the shape and size of your kitchen. Then, take a look at the other fixings so that you can counterpart your lighting-related fixtures with them.
Choose to hang up chandeliers
Using chandeliers would undoubtedly be a unique way to light up any space. Likewise, you can use them for your kitchen as well depending on your kitchen's appearance.
Nevertheless, chandeliers are more suitable for a large kitchen which is quite spacious. So, if you are hoping to hang up chandeliers on your kitchen ceiling, make sure that your kitchen space is large enough as chandeliers will not be suitable for a rather compact kitchen.
Install pendant lighting
Another way of brightening up your kitchen space is by fixing pendant lighting. The size of your kitchen does not matter before installing this kind of lighting, for this is suitable even for a comparatively smaller kitchen. On the other hand, it can be used as additional light fixtures for a bigger kitchen.
For this purpose, you can buy stem mount lights which can also be categorized under pendant lighting. These can illuminate your kitchen in the best way possible and also be used for decorative purposes in the meantime.
Fix lighting around the cabinet area
Adding lighting around the cabinet in your kitchen is not something that is looked upon by everyone who decides on their kitchen lighting. However, it is noteworthy to fix lighting, especially under the cabinets.
This is because you will be making use of the kitchen countertop which is directly below the cabinets. As a result, you need some lighting in that area to fulfill your kitchen tasks with less hassle. If there is no lighting around that area, then completing your kitchen activities can get tiresome and inconvenient too.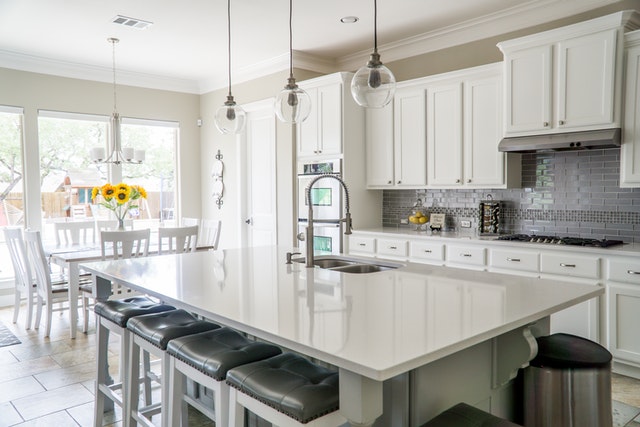 Add extra lights
This refers to lighting extensions that are to have extra lighting without wiring or sockets. Although you may wonder if this can be wasteful, at the end of the day it is beneficial with the approach of dusk during which the kitchen needs to be illuminated the most.
Hence, you can opt for wall lights as extra lighting and ensure that they light up all parts of the kitchen instead of just a few areas.
Mentioned above are a few ways you can follow when you are working on choosing the correct form of lighting for your existing kitchen or a revamped one. You may also search up on other useful matters in the same regard.