The bathroom is an area that needs constant cleaning as it has to be kept as hygienic as possible. There are certain guidelines you can follow when cleaning the tiles so that you can clean efficiently and quickly. It is best to carry out a little cleaning here and there every day so that you don't have a load of maintenance to do at the end of the week.
You can wipe the backsplash, the mirror and clean the sink when you have time on a daily basis. When it comes to the mirror, there can be certain spots that are on it so you can spot clean it to make sure that it has a uniform reflective surface. When you are renovating a bathroom, you can choose a tile that is easily maintained. You can look into tilers that can give you recommendations on this by following the link to www.robfullertiling.com.au. You can use a vacuum to get rid of the dust in between tiles. This will make it easy for you to clean up as well. When cleaning, it is best to pre-heat the tile by turning the shower into one of the maximum heat settings. You can then fill up the sink and bathtub to a few inches. Any tiles areas where it is hard to get rid of stains, you can splash some hot water on it as well. The temperature can help the cleaning solutions work more effectively.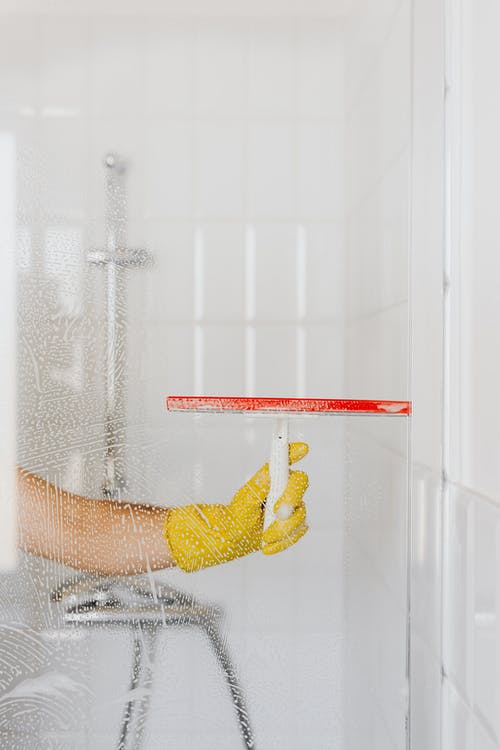 You need to work smart when cleaning as you need to get it over with quickly all the while doing a thorough job. When you are cleaning the shower where you have a tub, it is best to clean it top to bottom. This applies even if you don't have a bathtub. When you clean top to bottom, the grime and dirt will drip to the floor so you will need to clean the lower areas last. If you do it the other way around, you will have to clean the floor twice. Make sure that you carry the right tools with you to finish the job as well. With a sponge, you will be able to spread the tile cleaner uniformly across the surface. Once you spread the cleaner, let it rest for a little so it can work on its own and then start to brush. Give it a few minutes to work so that you don't need to scrub excessively.
When scrubbing the tile, make sure that you use a non-abrasive scrubbing tool to clean the grout. Otherwise, it can damage the grout and it can cause leakages later on when holes appear on the grout. You can also look for natural ingredients as well. Make sure that all surfaces are rinsed properly so that there is no chemical residue. And you need to make sure that the surfaces are dry as well, especially, the floor because of the risk to safety. You can use different cloths to dry different areas and differentiate them using a colour coding system. This way, you will not cross contaminate surfaces.